Duelist Pack Yugi and Kaiba Special Edition
Duelist Pack Yugi and Kaiba Special Edition - Spoiler Edizione Speciale DP Yugi e Kaiba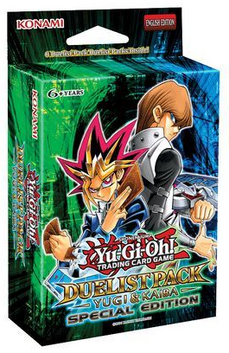 L'edizione Speciale Duelist Pack Yugi e Kaiba conterrà
3 Bustine Duelist Pack Yugi
3 Bustine Duelist Pack Kaiba
Il set Duelist Pack Kaiba e' stato aggiornato e conterrà 10 carte in più (tot 40)
Data di rilascio: 25 Ottobre 2013
The
Duelist Pack Yugi & Kaiba Special Edition
gives Duelists a great value, by combining 3 packs of
Duelist Pack – Yugi
and 3 packs of
Duelist Pack – Kaiba
in one box. Yugi's cards are the most popular and easiest entry point for younger fans to ge tinto the game. From "
Dark Magician
" to Gadgets, this Duelist Pack traces Yugi's Deck evolution from the first episode to the last all in this 30-card Duelist Pack - Yugi set.
Kaiba is one of the original characters also and has so many great cards that we've expanded
Duelist Pack – Kaiba
to a 40 cardset. Now, these two rivals would be featured in one value packed box, 20% more product – like receiving one pack FREE!
Each
Duelist Pack - Yugi & Kaiba Special Edition
includes:
3 Duelist Pack – Yugi
3 Duelist Pack – Kaiba
Release:
25th October 2013